BREAKFREE – 5 Steps eCommerce Business starting from Zero (Create new streams of income without Stress and Hassle)
BREAKFREE – 5 Steps eCommerce Business starting from Zero
(Create new streams of income without Stress and Hassle)
Are you a Stay Home Mum or Dad?
Are you looking to Breakfree from the mudane 9-5 job?
Do you want to create more passive income for you and your family?
This Seminar is for You!
Starting your own business has never been easier with the advancement of technology and social media. Do you know that today more businesses are created online and traditional businesses are scaling down? What if you could harness the power of eCommerce and create a powerful business. We can choose today, to take control of our lives and create the destiny we always wanted.
"It is our choices, that show what we truly are, far more than our abilities." J. K Rowling
What will I learn?
In this workshop you will learn 5 Step Blueprint to create your eCommerce business:
– Learning the Future of Business (discover what it takes to start a business, and its not as scary as you think)
– Understand the Global Trends (trends will help you discover growth in the market)
– Selecting Winning Products (choosing products that sell and generate profits for you)
– 5 Steps Stress-Free Method (simple easy to follow steps to create your eCommerce Business)
– Generate Massive Income (learn how to increase your income through StepUP! system)
– Replicate and Scale-Up (learn how to automate your business through ScaleUP! system)
"For eCommerce, the most important thing is Trust." Jack Ma
Why should I attend?
Gone are the days where being a employee provides stable income. With the rapidly evolving landscape of the economy and the technological discruptions, job security is no longer a given. We must prepare ourselves by creating new income to enjoy the quality of life we deserve.
When we leverage the power of eCommerce and Social Media, we are able to expand our reach globally and are not bounded by the shifts in local market. Harnessing the Crowd Commerce and powerful technological advancement we are able to better target the right audience and create a successful business.
Would you want to spend more time with your love ones while creating more income?
Would you want to to build a buisness that can run 24/7 globallywhile you are asleep?
When is it?
Workshop is held Weekly on Wednesdays at 3 timings (10am | 2pm | 7pm).
Where: M38 @ Jalan Pemimpin
Who should attend?
– Stay home Mums and Dads
– Executives
– Students
– Second Career
– Individuals who want to create more income
– Entrepreneurs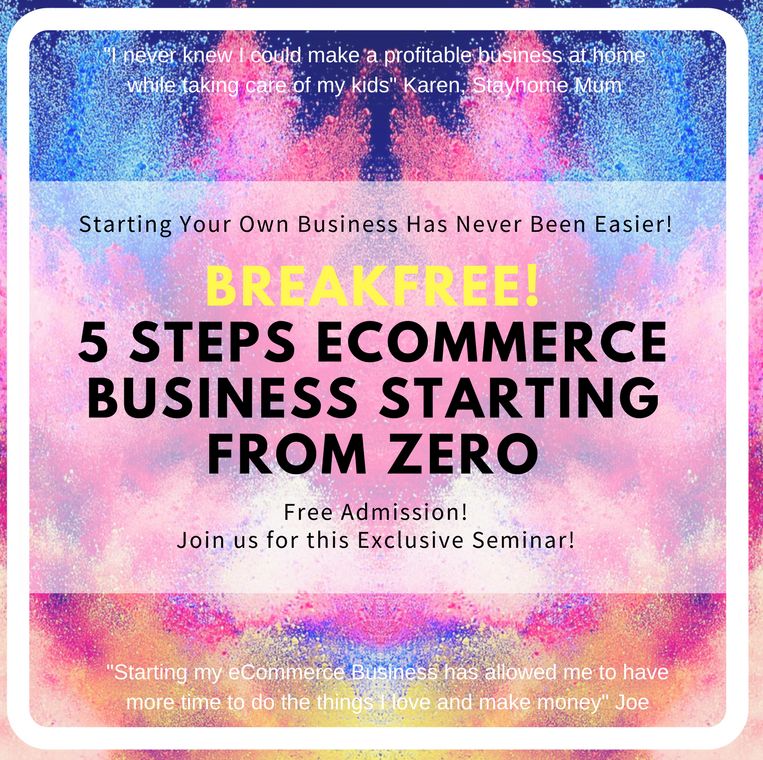 BreakFree and Take Action Today!
This is not a get-rich-quick scheme, it is for individuals who are serious about building new income for you and your family. When you come and join us for the workshop you will meet like-minded people and be open to learn and share with each other.
Together we can make a difference in our lives and our community.
Join us today! And discover the powerful system to create a stress free eCommerce business and create wealth and happiness for your life today!
Hear what your peers are saying:
"The workshop opened my eyes to the world of eCommerce that I never knew. The Steps that Jedi has showned me was easy to follow and I was able to create my own business easily. I highly recommend people to come and attend this class to learn more." Aaron, Entreprenuer
"You will learn the secrets to creating powerful business and make additional income, as a mum, i want to have more time with my kids and when i learn about Crowd Commerce I could run my business from home while having time to take care of my kids" Uzma Shah, StayHome Mum
"The skills I have learnt has helped me create passive income and residual money that has helped me enjoy the life i always wanted. eCommerce is the future of business and if you are not on it you have to be!" Wilson, Student
RSVP your seat today! Its FREE!
https://tinyurl.com/Breakfree2017
As a bonus to those who sign up and register early, you will receive a complimentary Life Coaching Session by a Certified Life Coach.
Unleash your potential within to create the life you always wanted!
#entrepreneur #startups #networking #workfromhome #passiveincome #extraincome #residualincome #sustainable #ecommerce #online #homepreneur #mummypreneur #daddypreneur #student #youngandfree #Future